Hotline Miami 2: Wrong Number – Review
Violent, gory and generally repugnant, Hotline Miami 2: Wrong Number showcases the very worst gaming has to offer. And that's what makes it so good.
Ever since the introduction of video-game age rating systems and censorship of games like Mortal combat and Manhunt, deemed to be a bad influence on children, more and more games have been challenging the status quo; gradually nudging the boundaries of what is acceptable and unacceptable. The original Hotline Miami was as much an orgy of intense arcade style fun as it was a parody of senseless modern video-game violence.
Hotline Miami's outlandish determination to push boundaries is amplified tenfold in the sequel, which is longer, even more violent and even more grotesque than its predecessor. The psychedelic visuals and pulsating soundtrack come together seamlessly to form what is an aesthetically quirky and memorable game.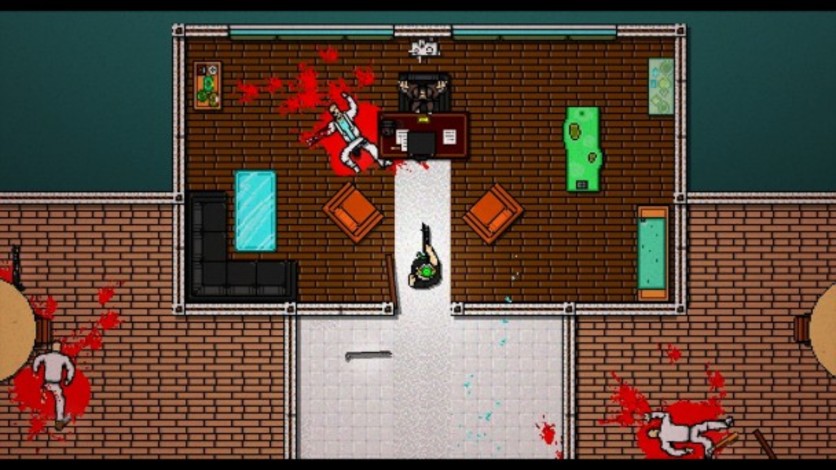 With a story as confusing as it's visuals, Hotline Miami 2: Wrong number's lore is one you might want to do some reading on. Confusion was inevitable though, as the introduction of 13 new protagonists, each with their own unique stories which intertwine into a complex overarching narrative, paired with the game's constant jumping back-and-forth in time and overall cryptic presentation was surely going to create some confusion.
Not only do the new protagonists bring their own stories, they also bring new gameplay features. Each protagonist feels incredibly unique and the mask system which felt lacking in Hotline Miami has been greatly improved, each new character having their own masks and each masks having a genuine effect on gameplay. In Hotline Miami many masks felt completely arbitrary, granting effects like translating the game into French, the masks in Hotline Miami 2: Wrong Number alter the elements of the core gameplay itself, such as allowing dual wielding or even in one case, letting you play as two characters at the same time.
The new masks and gameplay features keep the game refreshingly new and over its whopping 12 hour long campaign you will never find yourself becoming bored. The maps are well made and each one feels very different from the last. The maps are bigger than those in the original, some spanning out over three or so screens. One or two are a little overly difficult but from day one the Hotline Miami series has been known its difficulty. One weapon, hardly any ammunition, tens of enemies and one hit deaths. The rush gained from finishing a level in Hotline Miami 2: Wrong Number is immense and only amplified by the new increased difficulty.
Some small quality of life changes have also been made to the Hotline Miami formula. The nauseous screen shaking and seizure inducing colour changes that crippled the first game have been greatly reduced, leading to a more comfortable experience. Unfortunately, due to the new level sizes some AI does seem a little more glitchy than the original, but this is by no means a deal breaker, and can even be a great asset at times. Shamelessly defeating a level by standing behind a door and insta-knocking out anyone who comes in can be an all too viable way to pass some of the hardest parts of the game.
In short, the very long Hotline Miami 2: Wrong Number is a sublime experience from start to finish and with Steam Workshop support you will want to keep coming back. Despite a few small bumps, it is an improvement on the already great Hotline Miami and is a definite must have for the hardest of gamers.