Ride To Hell Retribution – Review
The title "worst game ever made" gets thrown around a lot these days. Unlike classics such as Atari's E.T, Superman on the Nintendo 64 and Big Rigs Over the Road that have all in turn been coined as the worst games ever, most modern contenders, like Duke Nukem: Forever merely just wallow in mediocrity.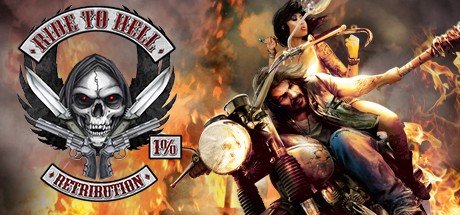 This all changed when the 2013 title Ride To Hell Retribution reinvigorated the "bad game" genre. Dragged out of a fiery hell chasm by developers Eutechnyx and published by Deep Silver, Ride To Hell Retribution is awe-inspiringly bad.
The story follows Jake Conway, a Vietnam war veteran who looks like hes been hit in the face by a shovel one too many times, on his courageous and daring quest to bring the murderous biker gang that killed his brother to justice. The game begins with an impromptu turret section (the developers having apparently just stepped out of a time machine to 2010) and a series of random disconnecting events occurring at the same time. A motorbike race, a brawl, helicopter jumps and a man talking blankly at the screen all fade on and off screen with no context creating an almost trippy fever-dream like effect.
A nonsensical intro transitions into an ever more confusing driving sequence. This sequence is where the game's core fighting mechanic rears it's ugly head. A series of quick time events. Its like that one infamously bad bar-fight mission in Hitman Absolution. It's as if that tumour from Hitman dropped off and evolved. Evolved into the horrible mutated mass that is Ride To Hell.
Ride To Hell's voice acting is legendarily poor, sounding like it was recorded with a tin can and string instead of a microphone. The music is repetitive and bland. Sound effects are dull or sometimes just missing. For a game marketed by it's motorbikes the single monotone "whirrrr" that poses as an engine noise, and gently bores into you skull, is inexcusable.
The bikes handle like they're on an ice rink and the physics are nonsensical; a light bump on any surface causes the screen to fade to black and respawn you in the centre of the road. This occurs very often and sometimes for seemingly no reason although rather ironically, didn't help at the multiple occasions where I fell through the floor into the great blue void of nothing.
Finally, Ride To Hell features some of the most hilariously broken logic ever found in gaming. Confronted with an electric fence, most people would consider maybe walking around it, cutting through it or even driving a car through it (I mean, this is a driving game right?). Well logic is not Jake Conway's forte. Jake Conway drives 20 minutes out of his way to the power station, yes the power station, and blows it up.
This isn't by all means everything. There so much more untouched muck in this manure-pile of a game. The gun play is terrible, the final boss fight is anticlimactic and the list goes on. Ride To Hell Retribution is an incredible experience. A textbook display of how to not make a videogame, Ride To Hell Retribution is the gaming equivalent of a freak show and definitely worth your time and money.