Team Fortress 2: Jungle Inferno update – day one – Review 
Day 1:
After an almost 500 day period of inactivity, valve have ended their apparent hiatus and delivered the newest Team Fortress 2 update: Jungle Inferno.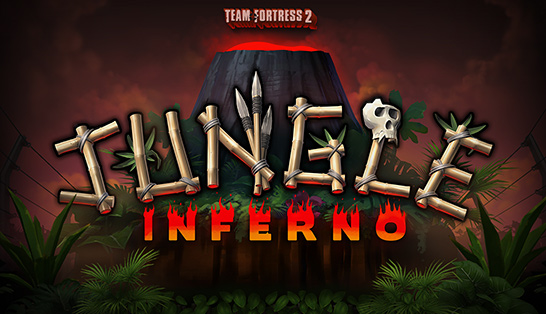 Its fair to say that last year (especially when it comes to Team Fortress 2) valve made mistakes. The July 2016 Meet Your Match update, that introduced competitive matchmaking, absolutely ruined the TF2 experience for many, even the most die-hard fans like myself.
The question on every players mind right now is, "is it time to get back to TF2?" Time to dust off those character action figures? Time to once more proudly display your Mann Co. wall posters. Time to sip on some Bonk! Atomic Punch and boot up Team Fortress 2.
So far, first impressions seem good. Today marks day one of the whopping four day Jungle Update.  With a fantastic new animated short so rich in lore that it will surely cause any fan to squeal in delight, a lot of new taunts and teasers as what's to come day one on its own would have constituted a fantastic update.
[youtube https://www.youtube.com/watch?v=YHf7e67T54Y?rel=0&showinfo=0&w=560&h=315]
Why stay cooped up indoors this winter? Venture into Jungle Inferno's series of tropical themed maps. Say "goodbye" to the stuffy, dusty dustbowls and gravel pits of the USA and say "hello" to the warm jungles of Brazil.
And now begins the waiting game. So far the Jungle Inferno update looks to be one of the best updates in Team Fortress history. What wonders will day two hold? Only time will tell. Stay tuned folks.