Electronic Arts' Mirror's Edge was certainly groundbreaking at the time of its release back in 2008; offering an extremely unique three-dimensional platforming experience which pioneered first-person parkour game-play, impacting games for years to come. However, although Mirror's Edge may have been a breath of fresh air when it released almost 11 years ago into a market with zero first-person parkour games, does it still hold up when compared to the likes of modern parkour experiences like Titanfall and Dying Light?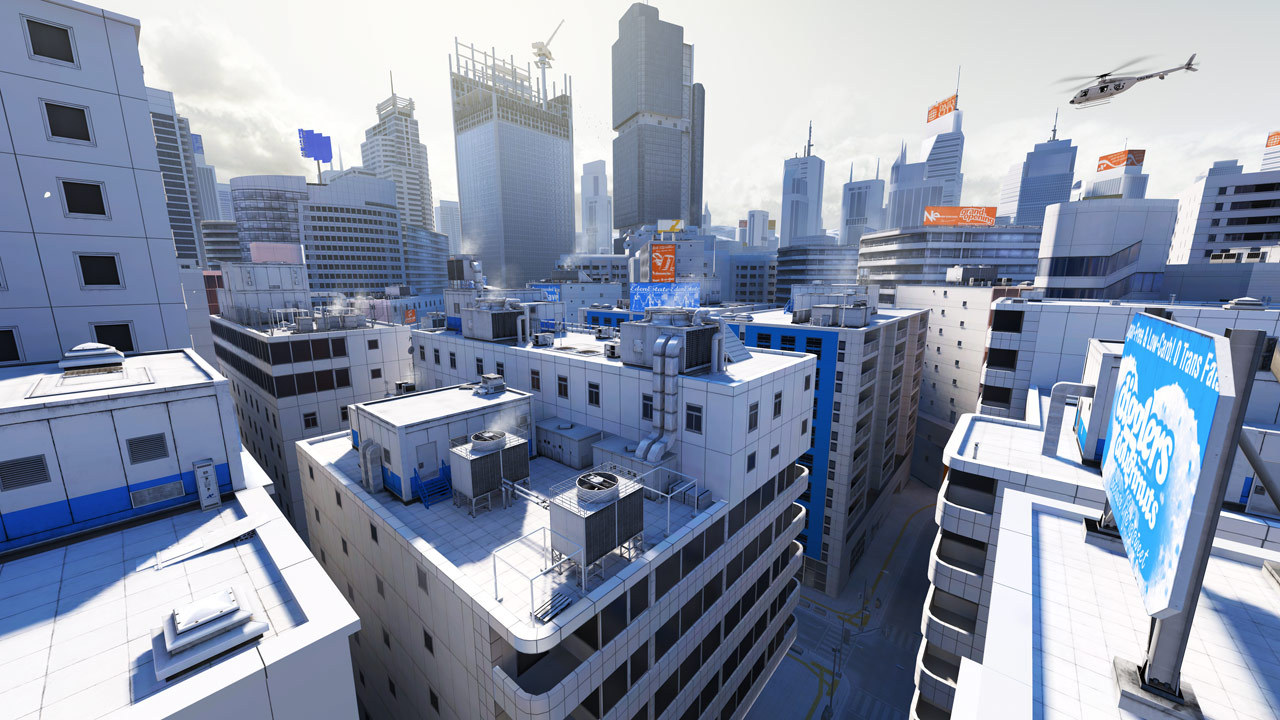 Firstly, it is important to acknowledge that it was not game-play alone that made Mirror's Edge so groundbreaking. Mirror's Edge boasts an impressively unique art direction, especially for its time. For many the 2000's is a time remembered by its countless brown and muddy looking FPSs. Mirror's Edge however, defies this trend. Aesthetically, Mirror's Edge is the antithesis of muddy, offering a crisp and clean pristine white cityscape dotted with the occasional vibrant primary colour. While at the time of its release its running requirements were quite taxing, it is no challenge for even the most modest of modern PCs. Setting graphics settings to the highest possible settings and selecting the very best anti-aliasing mode is definitely recommended. With everything set to max, Mirror's Edge is nothing short of stunning and its iconic visual flair absolutely still stands out from the crowd today.
This visual style is not only beautiful but also extremely practical. The white aesthetic of the city allows for greater focus when running, yet not being so minimalist as to not allow for the occasional beautiful vista when you stop to breathe. The colour red is also extremely significant as it is rarely found natively in the world. Instead, it is used for "runner vision", a kind of inherent intuition which colours ledges or surfaces bright red to help funnel you in the directions you need to go.
This is extremely useful, and definitely helps to reduce the number of times you will stop dead in your tracks trying to desperately work out where to go. This still happens however, and a little more often than it probably should. This is a particularly prevalent problem in the later interior missions, which involve a lot of verticality, often requiring you to make blind leaps of faith to ledges you can't quite see. There is also the option to hold left alt to forcefully point your cone of vision in the direction of the level's end point this however, is not as useful as it would appear. Knowing the location of the exit of a level is completely pointless when you still can't find the ledge which will facilitate you getting there. Having your control taken away so violently also breaks immersion, I would only recommend resorting to this option if you really are massively stuck (although looking up a walk-through would be just as immersion breaking, and certainly more useful).
Mirror's Edge is divided into levels, separated generally by cut-scenes, and levels often take place on rooftops in vastly different areas of the city. The game still manages however, to have a profound sense of geography. The city in Mirror's Edge is cleaved in two by a river. Two extremely tall and distinctive buildings are cleverly situated at either side of this river (these can be seen in the last picture). This allows you to always gage vaguely your location in the city, and helps you piece together the journey between the previous location and your current one – which is not often shown in cut-scenes. By the end of Mirror's Edge, you'll probably be able to navigate the white city better than your hometown.
Mirror's Edge also boasts a unique and very fitting score, which makes a great companion to rooftop running and helps bring the cut-scenes to life. Visually however, the cut-scenes are divisive. They have a very cartoonised hand-drawn style, and are quite contrary to the extremely clean look of the actual game-play. Personally, I am a big fan of the cut-scenes and believe that the hand-drawn look is certainly better than anything that could have been 3D animated with the technology limitations at the time.
Unfortunately, the story told by these cut-scenes is extremely lacklustre. With plain characters following a basic conspiracy type plot-line with all the predictable story beats and the obvious eventual twist.
Mirror's Edge also feature rather pathetic combat sections. Combat in Mirror's Edge is simply completely un-enjoyable. Whether guards manage to land a hit on you or not seems utterly random. Luckily all combat is avoidable, although due to the random nature of hit-detection your guaranteed to die at least a few times as you attempt to escape. Admittedly it was novel at first to disarm a few lightly-armed officers on a rooftop, later portions of the game which force you into tight indoor environments jam-packed with trigger happy machine-gun toting guards were anything but.
Stealth could also be considered an option, although it is so inconsistent as to be downright annoying. Guards have no cones of vision, you get too close and they become aggressive and open fire – triggering the arrival of more guards from around the level. You can allegedly disarm unsuspecting guards form behind, although I never managed this as they were always four clips into a barrage of fire by the time I got anywhere close.
The first five or so hours of Mirror's Edge are incredible; a freedom-filled rooftop race around a stunning city. The game just becomes too bogged-down in its boring story, eventually devolving into awful combat sections and restrictive building interiors. Despite all this, for me, Mirror's Edge definitely still holds up today. Whilst no other parkour game has managed to better it, they have managed to make its few flaws just a little bit more apparent.