D4: Dark Dreams Don't Die Season 1 – Review
Coming from legendary Japanese game designer SWERY, who most notably wrote and directed the supremely bizarre Twin-Peaks inspired cult classic Deadly Premonition, D4: Dark Dreams Don't Die has quite the boots to fill.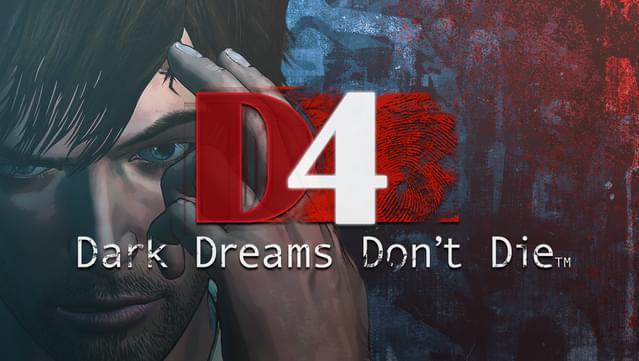 Although certainly not identical to Deadly Premonition, D4 does bare many of the same hallmarks as its predecessor. The protagonist is yet another quirky investigator who also comes across a host of weird and wonderful characters in the hunt for a mysterious killer. Both games involve a red narcotic and even share some characters.
The times where D4 distinguishes itself to its predecessor however are where the game is at its strongest. Whilst D4 is still notably weird, it's not quite as weird as Deadly Premonition and this does the overall experience a huge service. Whilst it was extremely difficult to relate to the uncanny citizens of Deadly Premonition's Greenvale each with their jarring stock-sounding motifs spouting head-scratching borderline-nonsensical dialogue, the characters presented in D4 felt considerably more real. As a result, I found myself genuinely invested in the struggles of D4's protagonist David Young far more than I was ever engaged in the actions of Francis York Morgan and his imaginary friend Zak in Deadly Premonition.
Don't get me wrong, the characters of D4 are still for the most part a bunch of complete weirdos but their quirks and personalities seemed far more believable. They felt like real people, odd real people but real nonetheless. Perhaps this was due in part to the far sleeker presentation of D4. Whilst Deadly Premonition housed awkward looking characters who shambled around a plain environment repeating simple dialogue while perpetually looping stock animations, D4 is smooth and stylish. With a pleasing cel-shaded filter and a delightfully over-the-top anime inspired set of fluid animations, which I only caught blatantly looping on one or two occasions, D4 is an absolute joy to look at.
Gameplay wise, D4 is a point and click adventure broken up by simple mini-games or David Cage style quick time event action sequences. On PC the game is controlled by solely the mouse, but the XBOX ONE variant offers both controller and Kinect support – Kinect support that is unprecedentedly good. To my amazement, the Kinect ended up the best way by far to experience D4, the polar opposite of my expectation. The controls on the Kinect mode are engaging, responsive and shockingly accurate. You also have the option to swap between Kinect and controller modes fairly quickly, so for Kinect owners I'd recommend certainly using the Kinect for the action sequences and then maybe switching back to controller for the slower investigation portions. Gameplay wise the experience without the Kinect is very similar to the experience with the Kinect, although certainly with less flailing around, as what would have been the position of you left or right hand is simply mapped to a cursor instead.
I don't want to spoil any details so I'll be fairly vague here, but story-wise D4's prologue and first episode are deeply interesting and very engaging, offering an intriguing mystery with fun and rewarding twists and as a stand-alone experience one of the best mystery games I've ever played. The issues with D4's story begin in the second (and final) episode. Whilst the first episode certainly created a lot of unanswered questions, it was fairly standalone. Had the game ended after episode one, I would have been not only supremely satisfied but clamouring for more just to tidy up a few threads, the big overarching questions that were set up in the prologue may not have been answered but the ones relating to that specific case had and the ones that didn't have conclusive answers were certainly hinted at.
Episode Two did nothing to enhance the story and felt like a couple of hours of total filler. It was a linear slog through a dull environment before taking a colossal narrative nose-dive with a sudden twist ending which makes very little sense and sets the stage for a follow-up episode to clear everything up. The problem is, there is no follow up episode. D4 ends two episodes in and over four years later has no plans for continuation. While for many this may seem a total deal-breaker, for me I don't feel continuation would have really benefited the game. It definitely peaked at its first episode (and it's a very high peak) and with the direction the plot was taking in Episode two, I don't feel future episodes would have ever been able to live up to the standard the first one set.
Despite not being technically a "finished game" per se,  I would wholeheartedly recommend D4 but with a big caveat. For PC make sure you buy it on sale, the £15 regular price is a little too steep for three hours of entertainment, and for XBOX ONE make sure you own a Kinect – it's not worth buying a Kinect over but if you're an existing owner it would give you a good reason to get some use out of the damn thing.