MiniGolf Maker – Early Access Review
---
Disclosure: To aid this review a copy of MiniGolf Maker was provided free of charge by Road Turtle Games
---
MiniGolf Maker by Road Turtle Games is almost exactly what the title would suggest – a tool that allows you to create, and play, MiniGolf courses.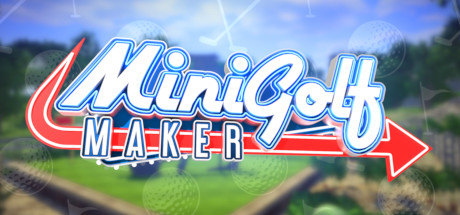 In these kinds of sandbox level creation games, the creative tools at your disposal should be put at the very forefront of the user experience – and for very good reason. These tools are what will constitute the majority of gameplay. Luckily, with MiniGolf Maker, a set of very solid and robust in-depth tools are at your disposal. With the ability to create multiple holes, import multiple items of scenery, customise your turf with by selected textures or colours from a vast wheel and much more.
There are several preset themes available; for example, a befittingly tacky pirate theme, a psychedelic dream style theme or my favourite, the buttery smooth and delightful minimalistic low-poly theme. Although there definitely aren't hundreds of items of decorations to choose from, the sheer variety of the themes and the ability to mix and match items from different themes and styles as well as adjust the objects' size means you certainly won't be running out of combinations any time soon.
If a completely flat expanse of sheer unending void is not your favourite locale for your mini-golfing action, you are also offered a terrain customisation tool which can terraform vast valleys, deep canyons or colossal sky-piercing mountain ranges. You are even presented with the ability to customise skyboxes with a variety of times and styles, which adds another deep layer of personalisation and the real ability to help your courses stand out.
Making your courses stand out is quite important, especially considering another highly commendable aspect of the game: the superb workshop integration. The workshop integration is quite frankly second to none. Everything is managed in the game tab, with the ability to create an in-engine banner for your course (mine is pictured below), add a title and description. You are even able to modify and update your already uploaded courses, complete with filling in the Steam workshop changelogs.
This excellent and easy workshop upload process has certainly paid dividends, with a very clean looking, consistently styled and vibrant Steam Workshop page. Already, there are some particularly high quality levels which truly demonstrate the power of the tools at your disposal. I can't wait to see what other excellent creations the community can make over the coming months in the wake of new content and updates.
If you don't feel like creating your own courses, never fear for there are 5 in-built courses. Although they are short, they are each very fun to play and excellently showcase the games' different available themes.
The actual mini-golfing in MiniGolf Maker is good. Easy to learn, but hard to master. Ball physics are how you would expect and interactions with it are very satisfying. If you've played practically any other good mini-golf game, you know what to expect. MiniGolf Maker also features a multiplayer course mode with each player playing rounds in turns to try and accumulated the highest score. Whilst it is certainly an awful lot of fun to tee off with friends, and the multiplayer experience is very competent, it is definitely not the chiefest aspect of the game.
The game does suffer from some fairly typical early-access issues, with the occasional bug; most annoyingly the inability to properly deploy barriers around your turf. I do have faith however that these teething problems with be swiftly fixed in a future update. The course creator itself is quite tricky to use and, although I was provided a handy tutorial by email, it would be nice to be able to see a quick guide or even just the tutorial embedded in the game itself in a help tab.
Overall, MiniGolf Maker is an extremely promising game. I would heartily recommend it to fans of mini-golf, whether real or virtual, and more broadly to those who are, like me, fascinated by games that provide you with fantastic tools for venting your creative energy. As a final note, and as a nice cherry on top, MiniGolf Maker is priced at just over £5 Steam which, considering the potential quantity and the absolute quality of what you are getting, is an absolute steal.