---
Disclosure: To aid this review a copy of Rise of Liberty was provided free of charge by Sandstorm Studio Inc.
---
It's often quite hard to find indie titles that stand out in the current oversaturated gaming market. A market where game releases and are so frequent that even just the sheer volume alone of titles available on Steam is now overwhelming, if not quite frankly a little bit terrifying.
The indie Steam title Rise of Liberty stands out defiantly for two reasons. Firstly, its delightfully minimalist, yet still vibrantly coloured, sleek art-style that helps make the game visually pop, and secondly the fact that it manages to successfully tackle one of the most criminally under-represented historical settings in the media today.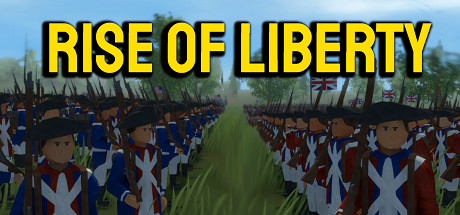 As the title would allude, Rise of Liberty is one of the few available games that takes players back to the 1770s in the U.S. of A. during the height of the Revolutionary War as a large-scale first-person tactics-oriented shooter.
Being primarily a battle simulator, à la Mount and Blade: Napoleonic Wars, Rise of Liberty allows players to either re-create a handful of real-world historical battles or choose their favourite map and jump into a quick battle. With the choice of siding either with the revolutionaries or the British, picking from a plethora of maps that each bring their own unique feel and challenges and even the ability to configure the intricacies of individual spawn-waves, these quick battles are deeply-customisable and infinitely varied.
The battles themselves can last for any duration of time that you would like, and be either grand-scale operations with lines upon lines of hundreds of troops on either side or just a swift twenty on twenty skirmish. You are even given the option to take a break from the action and relax as an omniscient spectator; flying around gaily and watching the carnage unfold. It's quite amusing and very enjoyable to be able to pit 500 revolutionary soldiers against a rival side of 10 and just be able to sit back and watch the massacre unfold.
If you don't feel like stepping into the shoes of a sadistic god however, you will also find that participating in said battles is just as fun. You are given two customisable weapon slots and 12 unlockable items with which to fill them. Whilst most of these items do admittedly feel somewhat samey, there are afew standouts, like the devastating Hand Mortar or the whacky Axe Pistol, which serve to make these unlocks fairly desirable and present a good goal in what would otherwise be a somewhat aimless game.
The shooting mechanics are very heavily based upon the physics engine, with all gunpowder weapons firing some form of different-sized projectile shot. Whilst the guns themselves feel a little floaty, and the melee combat even more so, seeing your hit collide with a now ragdolling enemy and catching a glimpse of the flashing hitmarker gives the combat a surprisingly level of depth.
One thing to note is that whilst the UI elements, particularly those found at the top of the screen, are a little bit of an eyesore; they can be very easily disabled with a quick tap of the "o" key. Another important button is the "t" key, which activates the enthralling slow-motion which slows flying pellets and cannonballs down to a snail's crawl and lets you truly appreciate some of the sheer chaotic beauty of the events unfolding before you.
Rise of Liberty is certainly a game at its best in spectacle. Although it may be janky in places, having only recently been released from early access, and still harbouring a fair number of bugs and odd gameplay quirks, its jaw-dropping scale and visual flair is second to none and elevates the experience to great heights.
Another small thing to note is that all this "jaw-dropping scale and visual flair" is very commendably optimised. In an age where it seems even browser level games require the latest I7 processor and a 4GB GPU, it's definitely nice to see a game that doesn't throw lower spec gamers under the bus. Not to mention the fact that the title's very low price point, at only just over £5, even further defines its wide accessibility.
Whether you're a fan of the time period in which it is set, someone struggling to find a modern game to run on their out-of-date hardware or just a fan of the more hands-on side of the strategy genre, and maybe even all three, then Rise of Liberty is an absolute must-have.