Executive Assault 2 – Early Access Review
---
Disclosure: To aid this review a copy of Executive Assault 2 was provided free of charge by Hesketh Studios Ltd
---
The first Executive Assault is certainly one of my all time favourite indie titles. An ambitious blend of both the first-person shooter and real-time strategy genres, having you building and maintaining a sprawling base on a planet you're trying to conquer. This is aided by your ability to design and deploy robotic troops. Victory is quite skill-based, like any good RTS and requires a careful management of resources, supply and demand and production lines.
Battles occur on a very grand scale, often with hundreds of combatants as well as some really massive mechs. Unlike most real-time strategy games however, you're not constrained to just watching your battles from above, like a wistful child pressed up against a window of a toyshop, but are rather given the option to jump into direct control. This shifts the perspective to that of an FPS, allowing you to participate in battle.
Whilst your contributions to the huge unfolding battle were certainly insignificant, and the shooting mechanics a little bit janky, the sheer novelty of being able to observe your battle unfold in person really adds a great level of reward to the hours of, although still perfectly enjoyable, simply less exciting management that had led up to that climax.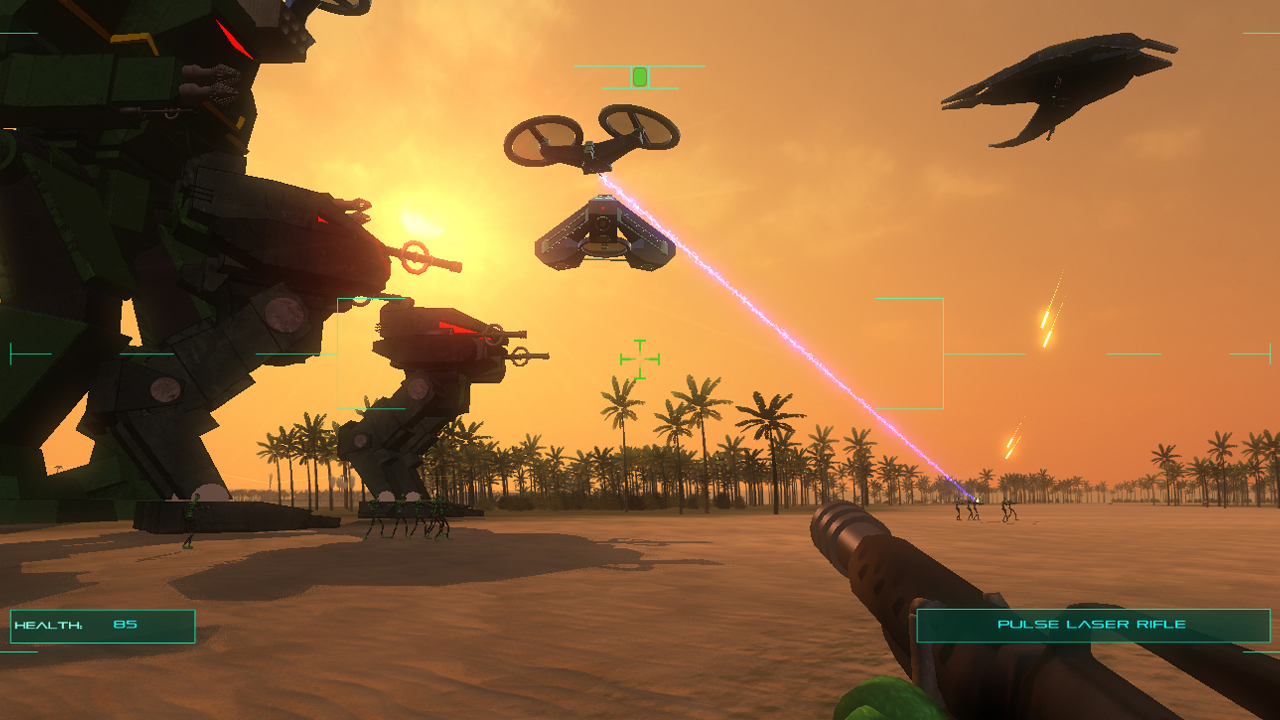 Despite suffering a little in the visual department, although personally thought the clanky models just added to the charm, Executive Assault was a top-notch title and a fantastic experiment that I would certainly recommend any fans of the RTS or FPS genres check out.
Thanks to my love of the first game, I was delighted to see a sequel was in the works. Considering the already perfected concept showcased in the first title, Executive Assault 2 is certainly standing on all the required foundations for a great follow up.
Much like its predecessor, Executive Assault 2 has you stepping into the shoes of the CEO of your own customisable company. The customisation options have also pleasingly been streamlined and expanded upon from the first game, allowing you to pick the gender of your CEO, name your company, choose the nature of the goods you produce and even select a custom logo from your PC's files to be displayed on flags and screens throughout the base.
Whilst the customisation options still aren't particularly extensive, and a character creator would certainly be a nice addition, they are perfectly sufficient and succeed in adding a pleasing extra layer of gameplay – even if it is admittedly quite a thin one.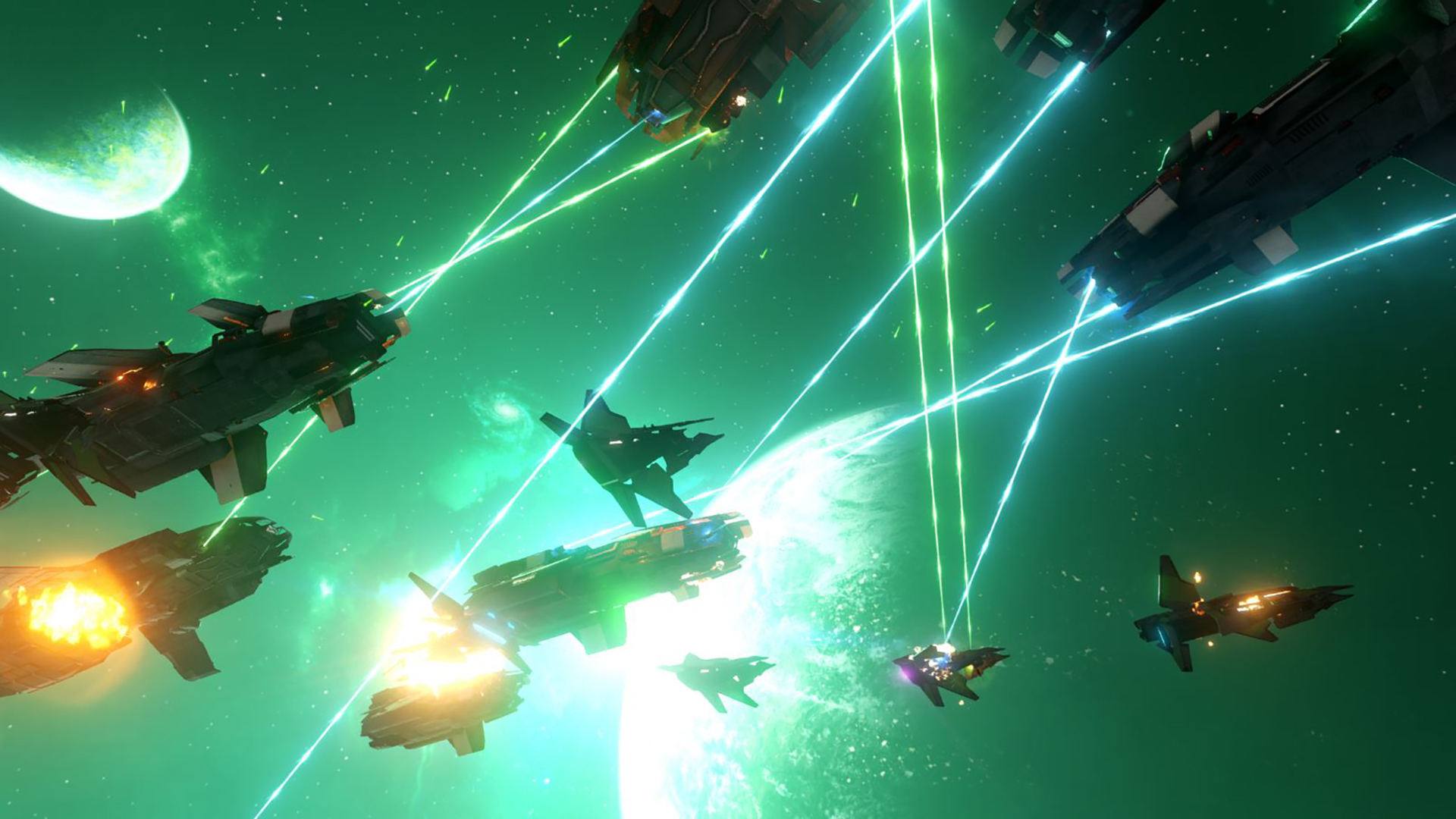 In terms of gameplay, Executive Assault 2 is still the excellent blend of FPS and RTS that was presented in the first title but with some key additions and improvements. Visually, the game looks much better; with shiny surfaces and a sleek new UI design – it's certainly not cutting edge graphics by any means, and the admirably low running requirements can be attributed to that, but at least now the series doesn't look very noticeably outdated.
These new visuals are accompanied by improved gunplay and a much improved set of weapon models and animations. The overall scale of everything has also been greatly increased. Whilst in the first game you were fighting for the control of a somewhat small portion of a singular planet, now you're aiming to dominate an entire galaxy.
From your modular floating space base, which you can fully upgrade and customise by adding a plethora of rooms including factories, security centres and ship docking stations, you construct and manage a hugely customisable fleet of ships. This ships are used to scout out and collect new resources as well as keeping a close eye on your enemies.
Despite the new addition of spacecraft, which now take up the brunt of the player to player combat, the iconic robots from the first game do return, although after a good visual overhaul and in quite a different role. The robots function as your ground teams, being able to board the enemy base and helping to defend the stretching corridors of your own.
Another thing to note is that Executive Assault 2 is currently in early access and frequently receiving content updates and patches. Everything runs smoothly and in my time with the game I encountered a notable lack of any major bugs. The only time you really notice that the title is early access is in mission select screen which lacks a campaign and contains only one scenario. This scenario can either be played single-player against rival AI CEOs or multiplayer facing off against either a friend or randoms in an online lobby.
Although more levels have been promised, and will certainly be a nice addition, they aren't entirely necessary. This singular scenario is perfectly sufficient and has a whole host of configuration options, even an included and easy to use map editor. For an early access title, especially one in its infancy, there is more than enough content provided to satisfy. In an age where the term "early-access" has become synonymous with low effort cash-grabs and unfinished garbage, it's very refreshing to see a game that could very easily, with a little extra polish, be a full release title.
Overall, Executive Assault 2 receives a wholehearted recommendation. The extremely unique core gameplay of its predecessor is accompanied by an ever increasing array of customisation options that create a fantastically engaging experience; one that provides the perfect fix for both FPS and RTS gamers alike.