Pogostuck: Rage With Your Friends – Review
---
Disclosure: To aid this review a copy of Pogostuck: Rage With Your Friends was provided free of charge by Hendrik Felix Pohl 
---
Pogostuck: Rage With Your Friends places players at the foot of an insurmountable mountain and has you both struggling to climb innumerable obstacles and battling a challenging set of deliberately obtuse controls all in an attempt to drive you to new physical heights and new emotional lows.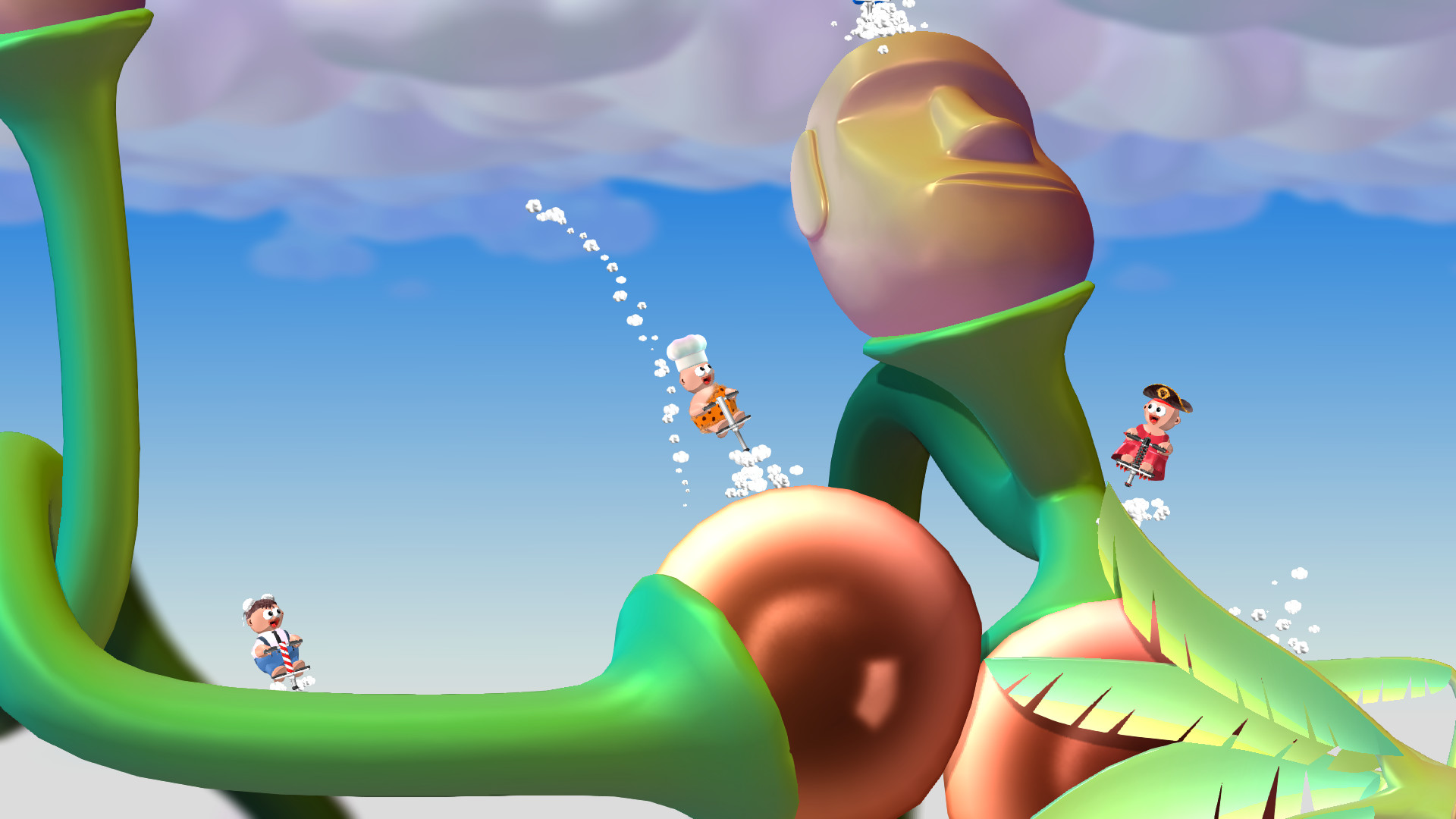 Pogostuck isn't the first title of the rejuvenated mountain-climbing genre, taking clear inspiration from 2017's surprise mountaineering hit Getting Over It with Bennett Foddy. For those who choose to abstain from being battered repeatedly by the latest online fads, or are otherwise just somehow unaware of its rise to fame, Getting Over It centred around a man stuck in a pot attempting to climb a mountain with the world's slipperiest hammer, accompanied by an equally slippery control scheme. The game could potentially last forever, provided you could never master it enough to finish, and with no way to save your progress, it cruelly required completion in a single sitting.
Inevitably, the game was a huge hit with internet content creators with avid fans flocking to see their favourite YouTube-rs or Twitch streamers torture themselves with the impossible task. The game was after-all at its most fun when played with someone else; seeing the highs and lows of the journey but without requiring the commitment to sit down and finish it in one go. Not to mention that, despite the occasional bit of in-game narration, playing Getting Over It solo was a pretty lonely experience: just you and your pot for company.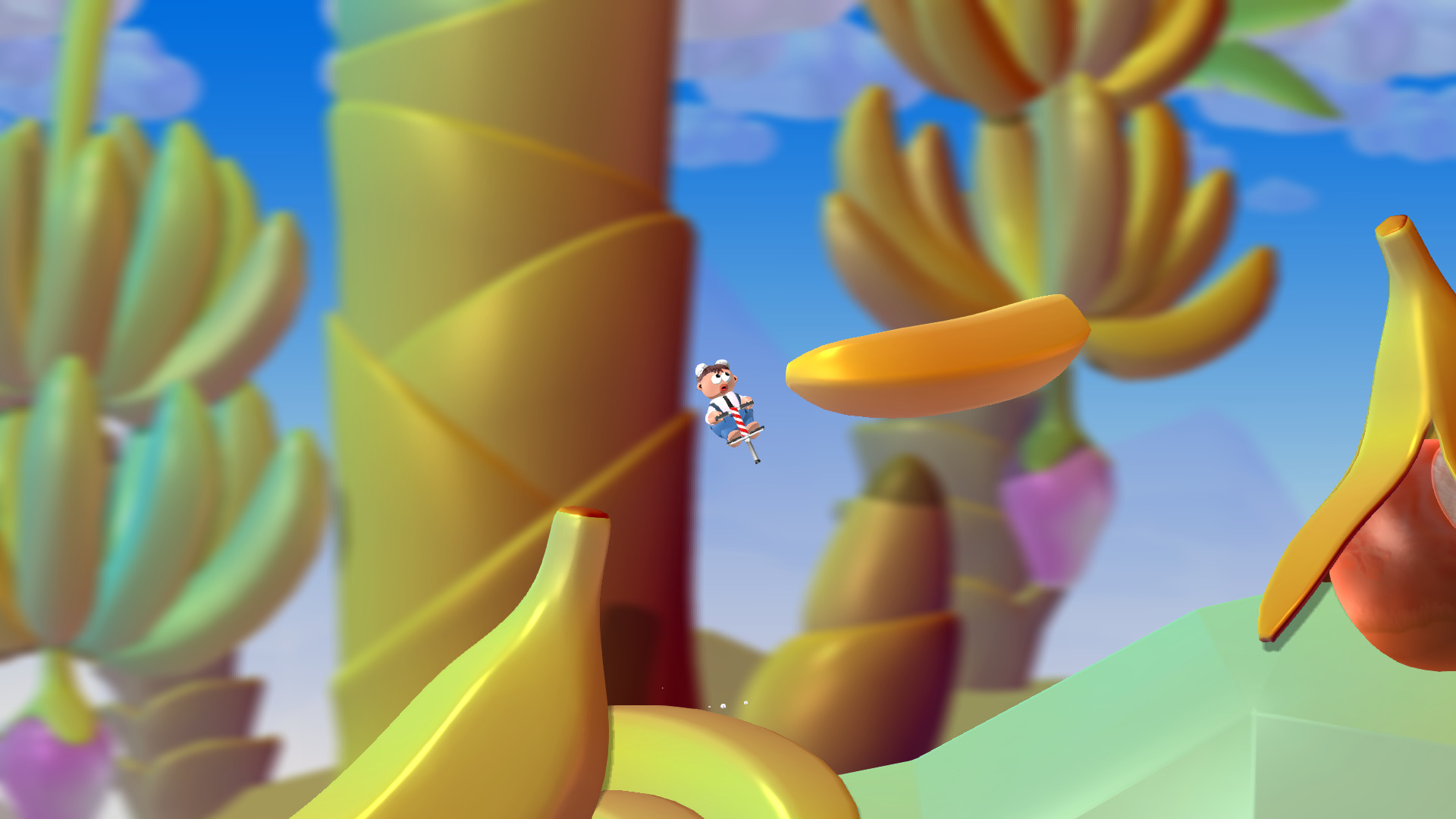 Whilst it would be easy at surface glance to dismiss Pogostuck: Rage With Your Friends as a meer rip-off, swapping out the pot and hammer combo of Getting Over It for a small man and pogo-stick, that would be giving Pogostuck a grave disservice. Pogostuck is actually more the natural evolution of Getting Over It's gameplay.
Pogostuck takes the original concept behind Getting Over It, first seen in an old gamemaker game entitled "Sexy Hiking", and presents it with a new unique spin. Whilst you are still indeed scaling a mountain, you are doing so on a pleasingly springy pogo-stick which, when you get the hang of it, turn out to be far more fun to manoeuvre than the hammer ever was.
The game is easier than Getting Over It and Sexy Hiking although that's not to say its "easy" per-se, and you'll still be faced with a steep challenge (pun intended), but it certainly feels fairer and much more balanced. Although the difficulty curve is still practically as steep as the mountain, being permitted the ability to quit the game after a particularly annoying missed-jump and then relaunch it to continue seamlessly after your anger has deflated days later certainly makes the experience more relaxing. This sense of relaxation is further boosted by the cute, colourful art-style and soft cartoon-like sound effects. Although the ingame UI is at first pretty obtrusive, taking up most of the screen, it can thankfully be configured and disabled in the options menu.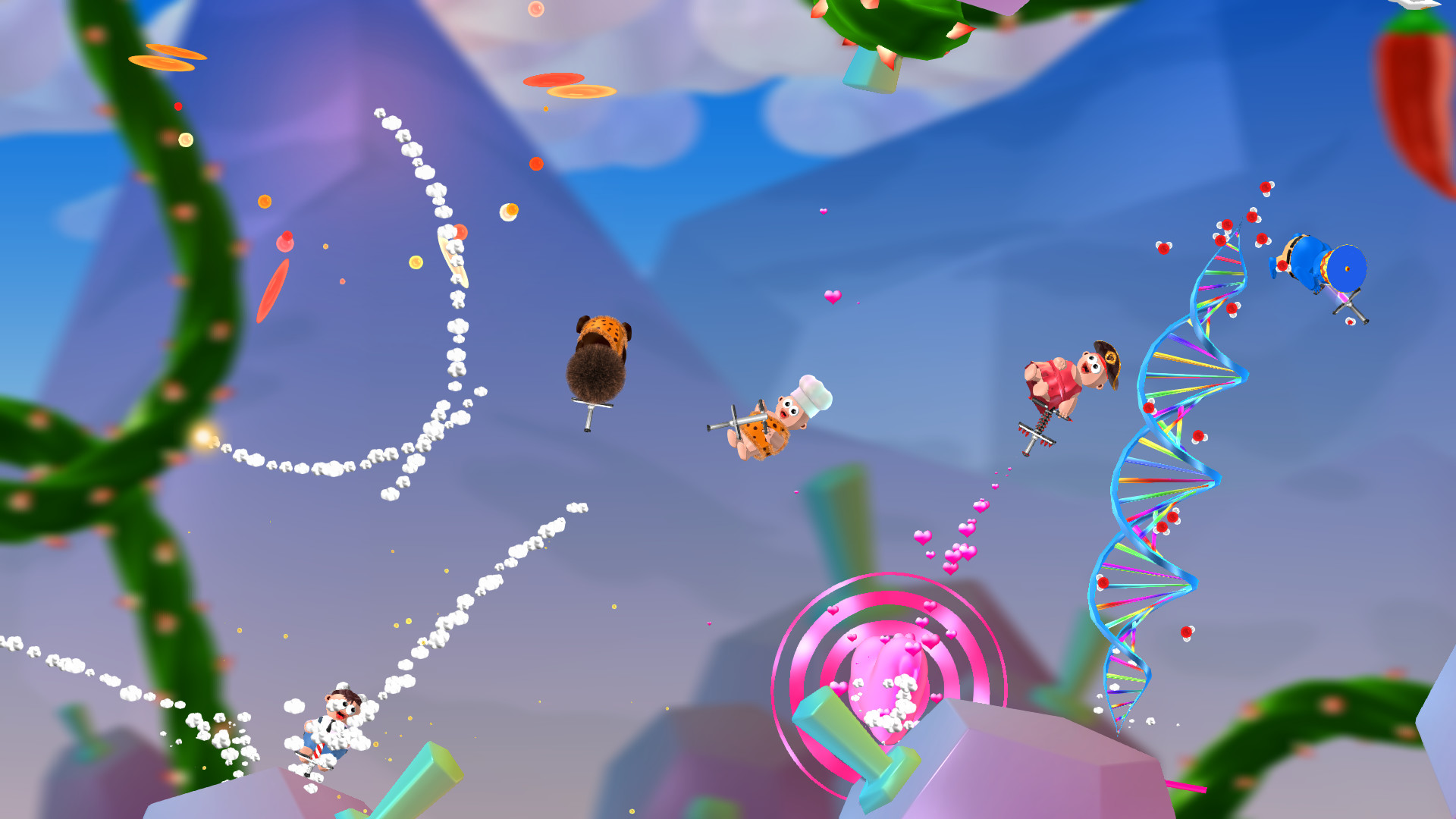 The main draw to the game is of course the multiplayer. Pogostuck is inherently far less lonely than its counterparts. Even if you don't have a friend with the game to connect to directly and try and race to the top, the game is always online – and you'll constantly be running into other players who are too trying to make their way up the impossible hill. Whilst there is no way to directly interact with other players, it is always fun to run into someone, exchange a few courteous greeting jumps before starting a mad dash for the next disembodied ledge.
This multiplayer element also feeds into the excellent progression system, which grants XP for every inch of mountain you climb. This XP accumulates and unlocks various cosmetics. With plenty of sticks, trail effects, clothing and headgear to choose from, there are plenty of combinations which will both flaunt your progress and help you stick out from the crowd.
Although it's certainly not as hardcore in its presentation or gameplay as other games in its genre, Pogostuck: Rage With Your Friends, is still a good challenge. A challenge that is elevated by a solid progression system and the glittering potential for endless enjoyment in online gameplay creating an experience which is deeply rewarding. If you were a fan of Getting Over It or Sexy Hiking, or want a lighter introduction to the world of relentlessly hard games, Pogostuck: Rage With Your Friends is an essential purchase.
If you feel like picking up a copy to torture yourself or some buddies (why not even both!) you can click here to visit the Steam page.