BIGFOOT – Early Access Review
---
Disclosure: To aid this review a copy of BIGFOOT was provided free of charge by CyberLight Game Studio
---
"Bigfoot" is a name that will certainly strike fear into the hearts of hikers, park rangers and anyone who has ever accidentally flicked on to the Discovery channel after midnight. The ancient ape has been the star of numerous media exposés over the years, most famously with the TV masterpiece Finding Bigfoot which, even after 12 seasons, is yet to live up to its name. It's only natural I suppose. Bigfoot is, of course, far too elusive to be caught, as evidenced by his successful evasion of the hordes of armed rednecks, I mean, highly qualified Bigfoot researchers that have been relentlessly pursuing him for decades.
I am only jesting of course; Bigfoot is undeniably fictitious – a fact of which I am certain that, deep down, even the most ambiguously qualified Discovery channel "Bigfoot specialist" is aware. In spite of this fact, it's still undeniable that to wonder about the existence of the impossible is fun and to search for it is even more so. Perhaps it's simply down to mankind's primal desire to hunt something truly dangerous, or maybe just an act of escapism to try and free ourselves from the cushy constraints of suburbia with which we are bound throughout our lives.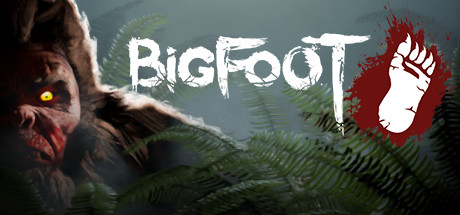 Whether performing daring bank heists or fighting aliens in invincible power armour videogames have always been an excellent medium with which one can experience the impossible. It seems a miracle that until Cyberlight Studio's 2019 title BIGFOOT, no videogames have capitalised on Sasquatch hysteria and presented audiences with a way to truly accomplish the impossible; a way to capture Bigfoot.

In BIGFOOT, intrepid investigators are tasked with locating four missing persons and foiling Bigfoot's hijinks in one of two fictional National Parks: the densely forested Ross Lake in Arizona or Alaska's snow-drenched Glacier Bay. Players can venture out on their quest alone or join up to four friends in an online match.
Taking out Bigfoot is not an easy task but, luckily, if players choose the Ross Lake map they are accompanied by a groovy and appropriately Scooby-Doo-esque camper van which is decked out with the very latest anti-Sasquatch gear. Hunting rifles, tacking bullets, flare guns, traps, tents and night-vision goggles are all there as you would expect although far more interestingly you are also provided with a set of eight motion-detecting remote cameras, a pilotable drone and a tablet with which to control them.
These high-tech gadgets form the crux of BIGFOOT's gameplay, which has you exploring a huge map in order to locate the missing, who have been unsurprisingly brutally murdered, whilst also hunting local fauna to make bait and setting up cameras and traps. It's important to not get too carried away on your scout's adventure however, losing track of the time and getting lost after nightfall is definitely not something you want to be doing.
Once back at your campervan you get to huddle up in your corner of choice and sit watching the cameras through your tablets on tenterhooks to see if your day's preparation will pay off. Things actually get quite scary, as the sheer quietness of the surroundings, with only the crunch of leaves and the creaking of trees, begins to slowly but surely put you on edge. The camera's beeps, which sound upon any detected motion, will send you scrambling in a panic to your tablet to desperately try and flick through the feeds in order to find the source – usually just a stray squirrel.
Things are even scarier still at Glacier Bay, which has players begin with almost no starting gear and, worse still, no comforting camper van. Instead, players have to venture into the forest completely unable to defend themselves in a mad rush to find as much equipment as they possibly can in the various desert log cabins strewn about the map.
Once you've finally trapped Bigfoot a couple of times, and unloaded about two hundred rounds of rifle ammunition into his posterior, his huge health pool reaches zero and it's time to tie him up and triumphantly drag him back to your spawn area where you'll be able to cage him and ship him off to tour zoos around the planet and be gawked at in disbelief by generations of tourists to come.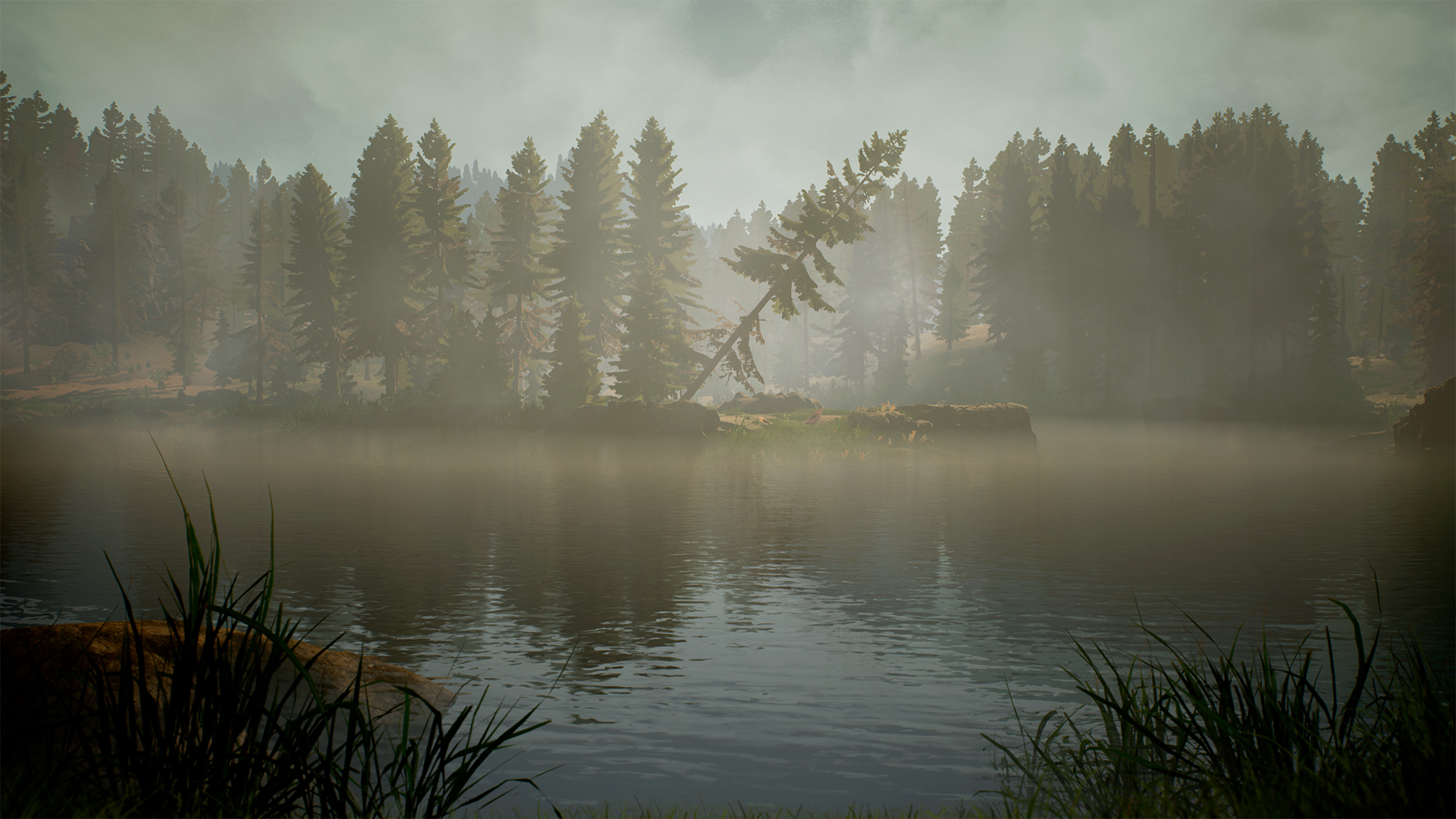 One of BIGFOOT's best gameplay qualities is that it does a great job of letting you know that you're never really safe. As a player you're always open to attack and your precious camper van or cosy little tent can't do very much in the way of protecting you against an eight-foot tall beast. Your fear of the creature is further heightened by the solid map design, with dense forests that are very good at shielding him from view – often leaving you with only a brief glimpse of your furry attacker.
The blood-soaked human remains that can be found in buildings around the map are also an excellent way to provide a minor scare and help build a high level of suspense which, by your first encounter with Bigfoot, has reached almost tangible levels.
On the graphical front, BIGFOOT looks good. You are surrounded by lush and rich green flora, accompanied by some excellent sun effects and a set of sharp textures all powered by Unreal Engine 4. The game's optimisation has also constantly improved throughout the title's course of early access and the game runs very well without experiencing any sudden crashes even in multiplayer matches.
Slightly less good are the game's animations which, although satisfactorily conveying the actions that they aim to convey, seem a little stiff at times and could use a little more work. In a similar way, the text in the game is also a little bit off, whilst there are no egregious errors and it conveys everything it needs too, the UI and loading screen text is sometimes phrased a little weirdly. Do bear in mind that the game is still in Early Access and due to the developer's track record of frequent and very substantial updates, I am certain that these minor issues will be resolved by the time of a full release.
With an excellent premise, demonstrably great gameplay and positive developer input that helps moves the game forward every few months, BIGFOOT is an excellent title to pick up even in early-access. With friends or solo the gameplay experience is the pinnacle of gripping, delightfully tense and overall an awful lot of fun.