Morphies Law: Remorphed – Review
---
Disclosure: To aid this review a copy of Morphies Law: Remorphed was provided free of charge by Cosmoscope GmbH
---
To say Cosmoscope's Morphies Law fell victim to Murphy's law would have been a fairly ironic turn of events – and it was very much almost the case. In spite of a lacklustre Nintendo Switch launch, Cosmoscope admirably kept hard at work acting readily upon player feedback and nurtruing the game's strong core fanbase. Almost one year later and Morphies Law has finally relaunched (or Remorphed) and accompanying it's new PC release is a whole host of fantastic new features.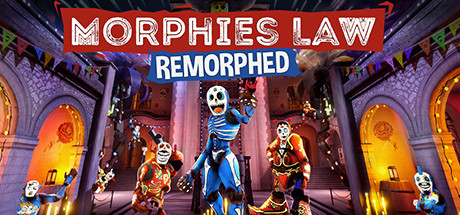 It's not hard to say the concept behind Morphies Law is a very unique one. You shoot your enemies, or even your allies, to absorb their mass and grow and you lose your hard earned mass when hit. It sounds extremely simple, but the gameplay houses a surprisingly great deal of depth.
For one thing, matches are inherently self-balancing. The best players of either team will naturally become the biggest having absorbed the most enemies. A bigger body makes them bigger targets and a bigger target is one that can be hit more easily by a less skilled and less accurate player. Every match of Morphies Law plays quite a lot like the Call of Duty series' Juggernaut gamemode, and it's an awful lot of fun.
The goal of a match isn't always just to gain the most mass either. Your aims vary drastically between game modes; from the most basic  "Morph Match", a weight based take on a common deathmatch, to the manic "Head Hunt", a pandemonic bid to capture your team's misplaced giant head.
Mass also affects the capabilities of your "Butt rocket", a rectal take on a jetpack, which, on the contrary to my basic understanding of physics, seems to become far more effective the heavier you are. Your size can also change the routes available to you while you navigate your environment. Huge morphies can jump to high vantage points and even trample over powerful fans which would send less fortunate lighter players flying to their deaths. Being small also has some perks, allowing you to dash in between the legs of enemies and find hidden tunnels through which you can scurry like a pesky neon-painted mouse.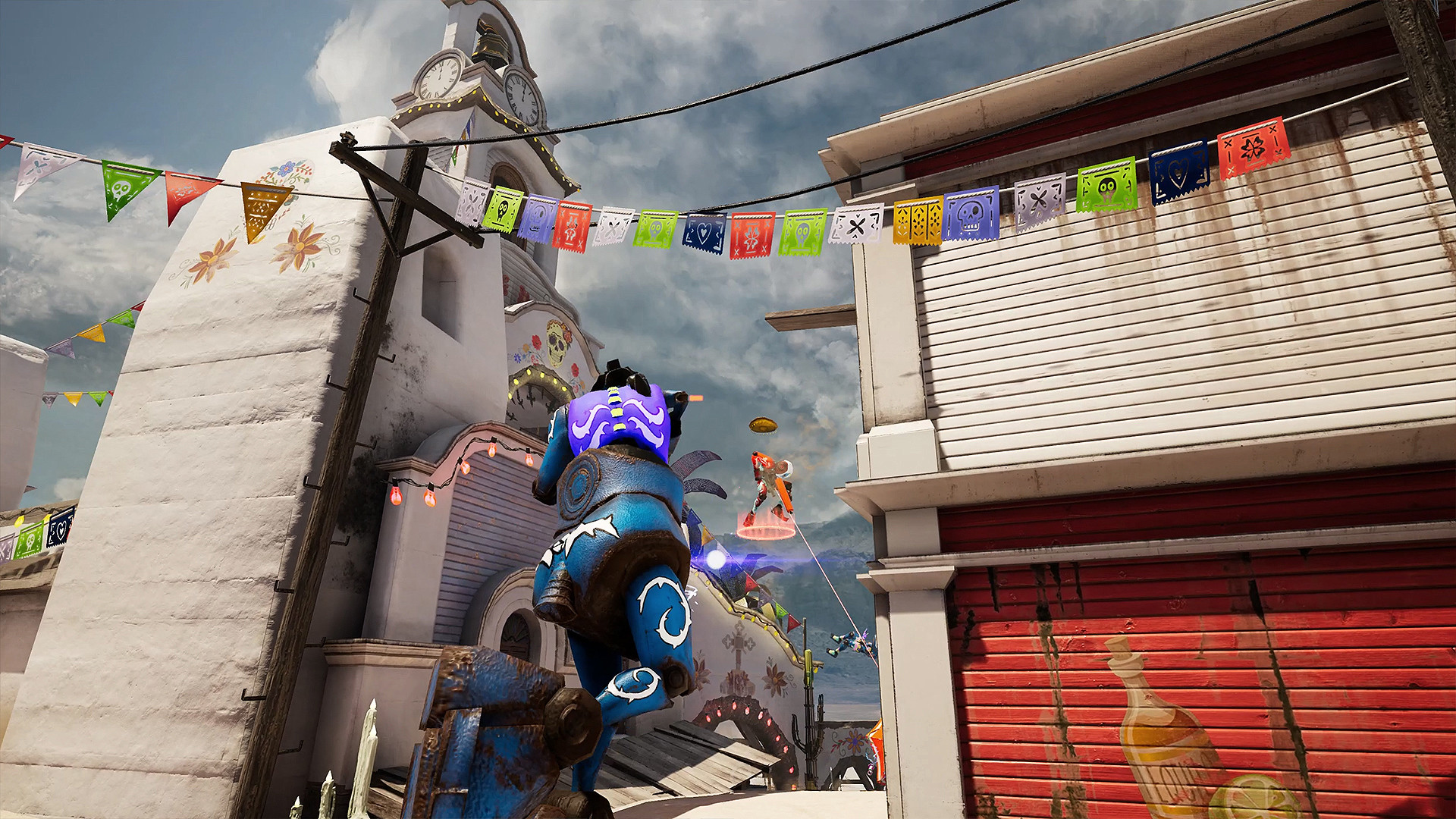 The extremely fun gameplay is accompanied by a set of fantastically designed and delightfully varied maps. Although in the original release a few of the maps were veering a little towards the annoying side – seriously, as cool as fighting on an oil-flooded tanker sounds, the sliding around did get pretty infuriating – the Remorphed update has addressed this, and even added a few new sites to explore.
The refined version of the original maps and the all new ones added in Remorphed each bring their own unique set of hazards and a distinct theme. One match you could be exploring an ancient Aztec temple whilst the next takes you to a western town that is constantly sinking into quicksand.
Although very different, each map still adheres to the game's great overall art style; a colourful day of the dead pastiche with plenty of cacti and neon lighting. The game's soundtrack is a fittingly over-the-top mix of Mexican melodies, which can be pretty catchy at times. If your character's stock aesthetic of full skeletal body paint is a little too subtle for you, can dive into the game's host of extensive customisation actions.
One can change the body and face paint with presets, or even use the more in-depth editor to mix and match to create your own whacky design. Even animations can be customised by choosing new emotes or match introductions. Most impressive of all is the weapon customisation system, which has you combining two parts (a primary fire and a secondary fire) to create a gun that is utterly unique to you. Additionally, the new weapons added in Remorphed all make solid additions to your arsenal and are certainly appreciated.
Levelling up grants new weapons and piñatas, which are the game's crate system. By hitting open piñatas you can obtain cosmetics. You'll be pleased, no doubt, to hear that there are absolutely no microtransactions in sight as the crates and currency, metal nuts, can be gained solely by levelling up completing quests.
On a technical level, optimisation is good with the game running well on the Nintendo Switch whilst looking decent and running extremely smoothly on PC whilst looking a little nicer. The menus look good and are easy to navigate and UI is clean and can be understood readily at a glance. One thing I would change is the game's current hit sound. The current one is a tad underwhelming – being a little twinkling noise – and something with a little more "oomph" wouldn't go a miss.
The game supports cross-play between the PC and Switch which is good at bolstering player numbers. For when you want a little alone time; you can always have a blast with the game in configurable offline modes with bots.
Overall, although the original Morphies Law was a good idea hampered by a lack of refinement; Morphies Law: Remorphed is a good idea perfected. With very strong and unique gameplay, that has only improved through the frequent developer updates, Morphies Law: Remorphed is a constantly evolving shooter that you won't want to put down and gains a strong recommendation from me.
As a nice little bonus, try out Morphies Law: Remorphed for free by downloading the hilarious Steam Demo here. If you fancy a less flatulent version, you can buy the full game on both PC and Nintendo Switch.