---
Disclosure: To aid this review a copy of  Killer Chambers was provided free of charge by Village Bench
---
Killer Chambers is in many ways a wholly unique kind of bullet hell plat-former. Ditching the traditional sprawling arenas that have come to define the genre for minuscule micro-chambers, the levels force you to manoeuvre a highly claustrophobic environment, dodging a plethora of deadly traps as a timer excruciatingly ticks down to your release.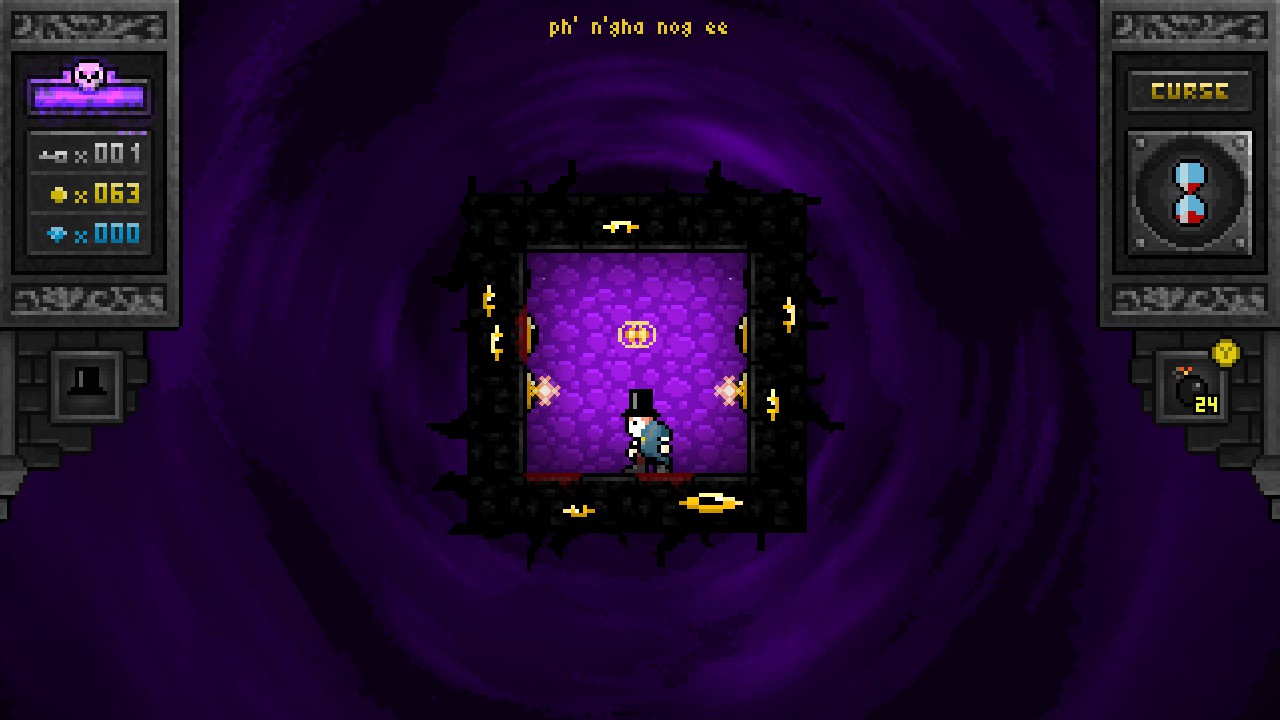 From a game-play perspective, Killer Chambers is relatively simple. You have the arrow keys that control your movements in the cardinal directions, including crouching, and a jump button. These help you evade everything from shooting projectiles to laser beams which are fired at regular intervals in patterns and combinations in each room. With practically unlimited lives (and extremely quick deaths!) the fun of Killer Chambers comes from learning the almost musical rhythm behind each set of traps.
Each stage offers three levels of difficulty which range from somewhat infuriating to downright impossible, and are sure to offer even the most hardened bullet-hell fanatic a tough time. There are five worlds to conquer, each with an incredibly difficult boss fight and a unique visual style.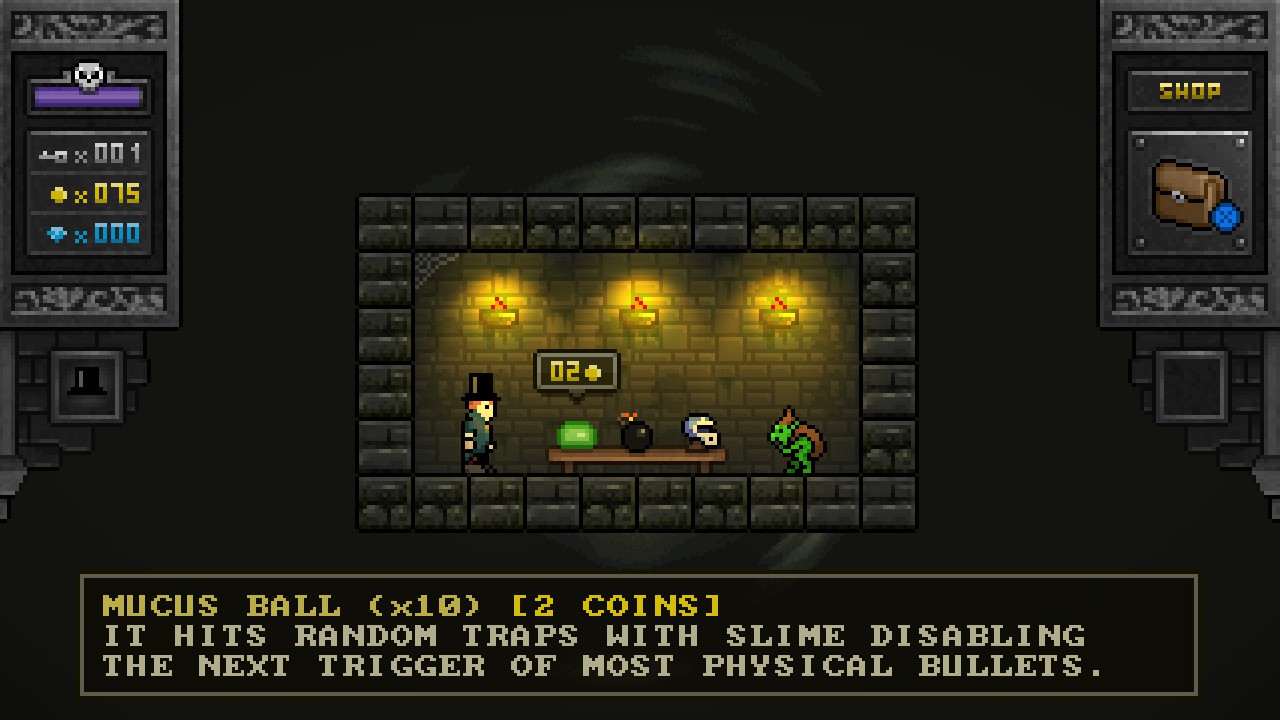 The inclusion of shops in which you can spend your hard earned in-game gold is a nice addition, allowing you to purchase hats that drastically alter game-play to keep your experience fresh and often providing a slightly easier path to completing rooms.
Despite such items, you will still die. A lot. This is by design and the game deliberately punishes you for failure with a meter that increases each time you die. When full, you're transported to a dark alternate realm with its own set of unique rooms to beat. Although this may sound particularly annoying, I often found this forced change of level very refreshing and kept repeating the same room over and over again from seeming quite so monotonous.
Further breaking up the experience is the story which is presented through delightful little dialogue boxes in-between levels. Entertaining writing with a cast of surprisingly developed characters and a lot of genuine laugh out loud moments make the short segments of story one of Killer Chambers' best attributes. Seriously, the writing punches well above its weight and often the wish to see the next cut-scene gave me the motivation to keep going through the most difficult parts of the game.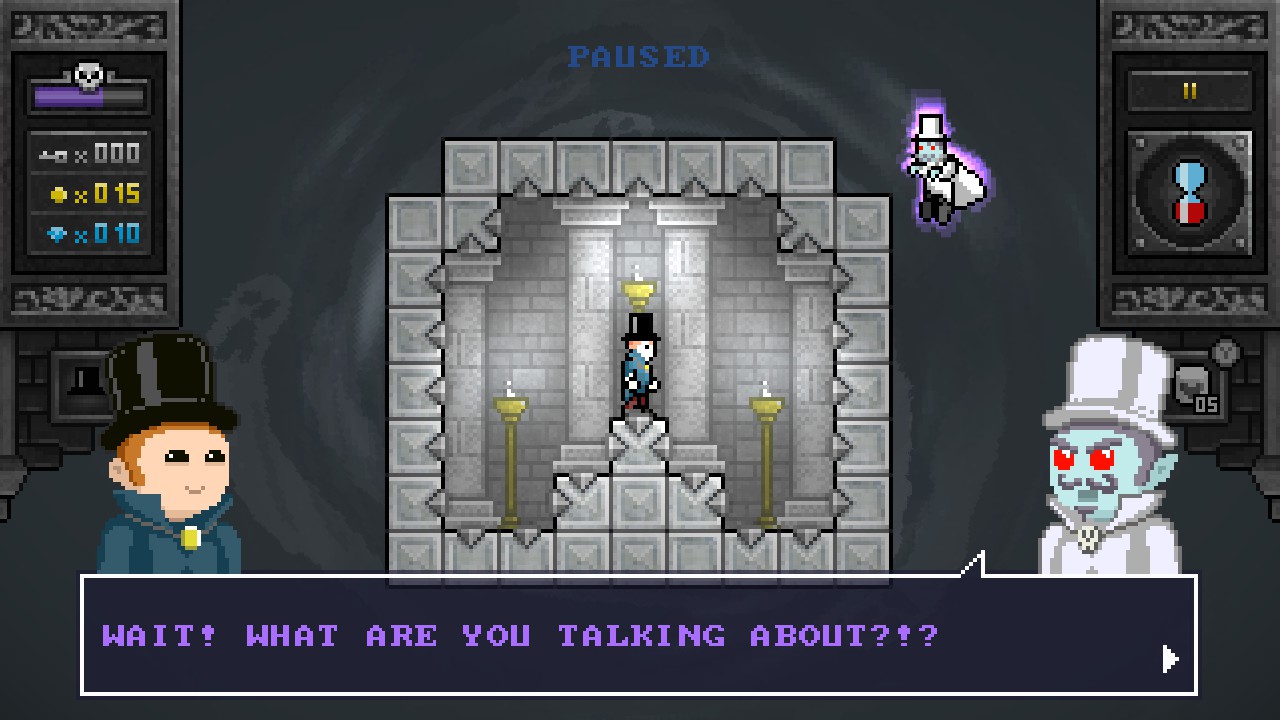 The comic-tone of the dialogue and characters is complimented by the cheerful chip-tune soundtrack, which although somewhat repetitive at times is certainly satisfactory. It is nevertheless impressive that any music at all managed to be crammed into the game's absolutely microscopic 85MB download size which, combined with its meagre running requirements, is sure to keep it a mainstay on all of your PCs.
With a great deal of replay value, a huge variety of levels and some of the best writing we've seen in an indie title, Killer Chambers is a game that despite its gruelling difficulty manages to be accessible, highly rewarding and extremely memorable.
Did we mention that Killer Chambers has a price of admission lower than your average sandwich? At only £3.99 on Steam, Killer Chambers is an essential purchase for anyone who wants a great value title which is sure to keep them coming back for years to come.