SuperEpic: The Entertainment War – Review
---
Disclosure: To aid this review a copy of  SuperEpic: The Entertainment War was provided free of charge by Numskull Games
---
SuperEpic: The Entertainment War, an indie-developed sidescroller, successfully delivers a best-in-class Metroidvania adventure that confidently mocks the slew of AAA games it has managed to supersede.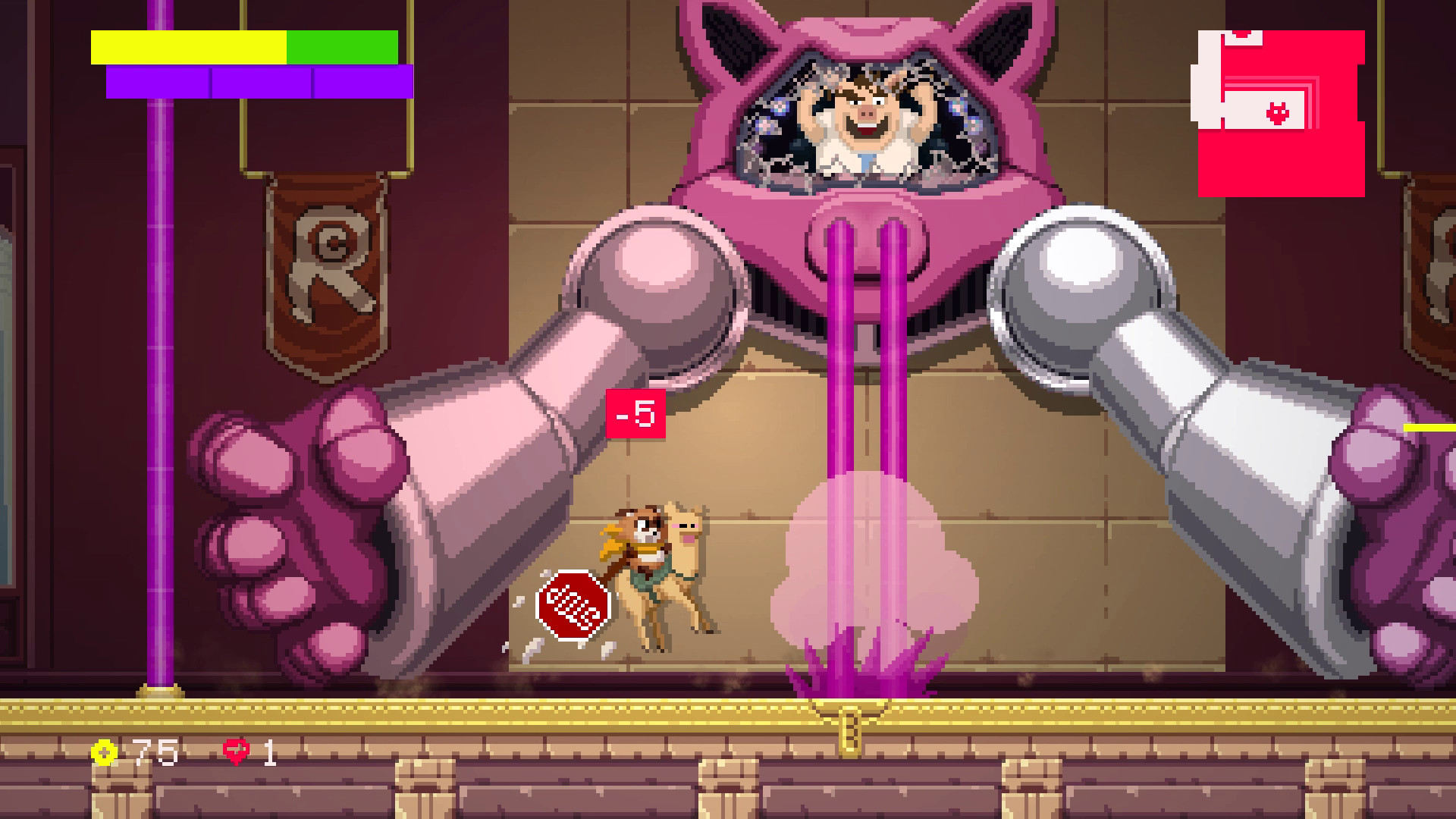 In the world of SuperEpic, greedy corporate pigs (literal pigs might I add) have bought out every game developer and are now pumping out mass-produced highly-addictive mobile titles that have entranced the populace and are draining their wallets at about the same rate as a Steam Christmas Sale. The adorable raccoon protagonist Tan Tan and his facially deformed llama steed, Ola, must whack, slap and thwack their way through swathes of RegnantCorps' evil employees to put an end to their vile videogames for good.
Conveyed through cutscenes of pleasing animated slides and walls of text, the plot is certainly not one of subtlety. Although it does little to reinvent the wheel in terms of its retro presentation and simplistic writing, the plot of SuperEpic provides a decent number of chuckles and more importantly creates a perfect unobtrusive skeleton upon which the game's excellent gameplay can be hung.
A classic Metroidvania, SuperEpic boasts large hand-crafted levels that can be explored in a non-linear fashion. The handy minimap is an excellent addition, and one that would have greatly benefitted other games in the genre. Being able to avoid confusion makes exploring levels and finding the plethora of hilarious hidden secrets dotted throughout levels even more rewarding.
Exploration is littered with enemy encounters and gripping boss fights. Revolving around three attacks – a quick attack, guard break, and uppercut – the combo-oriented combat is deceptively simple. Whilst button mashing may get you through most levels, far more rewarding is the intricate mastery of each induvidual move and learning of unique button combinations.
The combat is also extremely satisfying, largely due to the brilliantly meaty sound effects and neon hit indicators. Furthermore, the impressive variety of unlockable weaponry – raning from household cleaning tools to comedic hammers allows the combat to retain a fresh feeling throughout the game and leaves you thirsting for more by the time the credits roll.
Handily, SuperEpic also includes an unlockable "roguelite mode", a procedually generated challenge which gives you an even greater opportunity to amass huge quantities of the coins dropped by every enemy.  These coins can be used to further upgrade your weaponry and armour and add an additional satifsying dimension of progression.
SuperEpic is also jam-packed with minigames. Scanning QR codes scattered throughout levels opens webpages containing short flash games on your mobile phone. Tongue in cheek parodies of popular mobile titles like Flappy Bird, these minigames are presented in-universe and provide an awful lot of world building. The use of QR codes also ahad me surpsingly immersed in the games' universe, although I can't help but feel such technology would be of greater service to a more plot-oriented title. Nevertheless, I would highly recommend going out of your way to try and exploring thouroughly in order to experience all of these optional extras.
In addition to your mobile phone, for PC players I would also recommend bringing a controller to your play session. Whilst the developers have done an adequate job of mapping the 4-button control scheme to your keyboard, a controller really helps recapture some of the button-mashing nostalgia of your childhood.
Alternatively, the Nintendo Switch version of the game works like a dream. Speedy loading times and smooth-as-butter performance make curling up in a warm bed with the switch in handheld mode and therapeutically punching pigs to a pulp an absolute treat. The handheld version also helps you to appreciate the sublime 32-bit sprite animation, which is beautifully detailed and clearly the recipient of a great deal of love and care.
It's not just the animations that have recieved love and care either. Everything from the pause screen in which you can practise your combo attacks to the detailed and varied enemy designs seems meticulously crafted and as such can offer a game that has as much, and often times far more, polish than the majoirty of AAA titles. This sustained superiority helps emphasise the importance of the games' overriding message.
SuperEpic is in its very execution a commentary on the modern gaming market. In an age of over-inflated budgets and multi-million pound videogames stuffed to the brim with predatory microtransactions and vicious payment models, it's really heartening to see a good old-fashioned indie title that is able to so severly outclass its competition.
Overall, SuperEpic: The Entertainment War is able to comfortably fulfil its lofty ambition to deliver a satisfying parody of the modern games. Although its writing may be too on-the-nose for some, this is more than made up for in the game's gameplay which is the absolute pinnacle of indie sidescrolling action.
If you're interested in playing SuperEpic: The Entertainment War, the game will launch on the Steam Store later this month in addition to the Nintendo eShop, Microsoft Store and Playstation Store.